Gereedschap
1

Evo-K-
Bedrijf: Go-One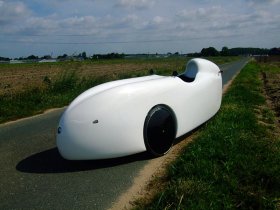 Every here and then in the last years, there was the question regarding a velomobile in Beyss-quality but without the characteristic canopy of the ancestors.
Well, lovers of "head-out"-velomobiles can now find the fitting model among the go-one velomobiles: the go-one Evo-K-
Without a rear suspension it weighs only approx. 19kg, and is extremely stiff! The racy go-one Evo-K- can, at extra charge, be ordered with rear-suspension.
Due to a carbon rear fork (ball bearings) and a DT Swiss air shock the weight will thus only be increased by approximately 1kg.
It is built incredibly light, alas incredibly stiff. Every single Watt will go into acceleration! This brand-new model will amaze the race- and record-tracks in the nearer future.
We are offering the Evo-K- in three versions, a Top version, a Hybrid version and the normal Carbon version.
Evo-K- Top version (19 kg) :
The extremely stiff vehicle chassis is built in carbon fiber honeycomb technique. We apply high quality fibres, gel-coats and epoxy resins only. Additionally, only high-end bike bicycle components will be assembled, such as Ultegra cranks, Sram XX derailleurs 10-gear, Terracycle chain idler 23 tooth, low-maintenance S.A. drum brakes, vertebral column friendly carbon seat , chain ring 61 tooth (normal riders), bigger ones on request, Ultegra rear sprockets 12/27. Steering as joystick-steering.
Different colors are possible, however may result in higher weight. Further weight reduction is possible on request and extra charge. The vehicle will be adjusted individually to the customer. Further special wishes are possible on request.
The go-one Evo-K- is offered in white at a base price of 11.000 euro
Evo-K- Hybrid version (20 kg) :
This version is identical with the version mentioned above, but there is no honeycomb technique used in the sides of the Chasssis.
The go-one Evo-K- Hybrid with joystick-steering and ready to drive is offered in white at a base price of 9.000 euro
Evo-K- Carbon version (24 kg) :
This version is made from Carbonfiber, with Aluminium boom, Aluminium rearfork, Standard Switch-, Brake- and Suspension parts.
The go-one Evo-K- Carbon with joystick-steering and ready to drive is offered in white at a base price of 7.800 euro, also available as a kit for 6.900 euro
Modification (extra charge)


LED lightsystem	(incl. readily assembled switching panel)       350 euro
LED indicators (only in connection with lightsystem)            350 euro
Rear suspension carbon rear fork (incl. DT Swiss Airshock)    1.000 euro
90mm drum brakes		                                100 euro	
Optimized Rear Wheelhouse (noise reduced rear Wheelhouse)	300 euro  
Carbon Racecap (Kit)		                                700 euro

Dimensions :

Length	    2643 mm
Width	     640 mm (width of chassis)
Height	     880 mm
Wheelbase   1260 mm
Track	     660 mm

Prijsindicatie: zie hierboven
aangemaakt op 29 november 2012 07:04, bijgewerkt op 29 november 2012 08:44