Gereedschap
0

Low Baron (26/20)
Merk: Optima Bedrijf: Optima Cycles B.V.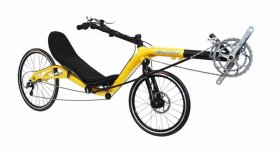 The Baron is the bike for those who want the ultimate experience in speed and maneuverability. A race model without compromise, our Baron is one of the fastest bikes and probably the highest selling and most copied low racer in the world.
Experience its practicality and amazing handling and you'll see that this beauty is more than street worthy.
FEATURING :

Strong 'over-size' 7005 Aluminum double heat-treated to T6 with Optima's internal/external gusseting.
The quadruble rear ends give the Baron sufficient stiffness of the frame whilst assuring comfort, transferring shocks into the frame and not in the seat as we see on most other unsuspended racers.
Optional superman "open cockpit" stem and handlebars offered.
The chain guide of the chain diverting from the front wheel allows easy turning with many features for a daily use or on sinuous routes.
You can easily put this bike in direct drive (chain line without return idlers).
Zithoogte : 34 cm / zithoek : 23-28 graden / wielbasis : 130 cm.
Voor info over de zeg maar gelijkwaardige Baron, kijkt u even bij oud !!!
Oud model. Prijsindicatie: vanaf 1895 euro
aangemaakt op 23 november 2012 22:41, bijgewerkt op 02 februari 2022 14:39