Gereedschap
0

Cougar 20 (26/20)
Merk: Optima Bedrijf: Optima Cycles B.V.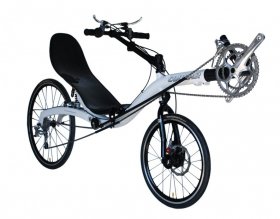 Likes its name sake, the Cougar is sleek and elegant. It's built for speed with the high bottom bracket and laid back seat, making it a perfect choice for either everyday speedy commutes or light touring.
Light stiff and reactive, the Cougar will also hold its own out on the race course and the rear suspension is just the thing for long distance racing where bad roads and vibration can fatigue a rider.
So leave the pack behind, get the Cougar.
(Also available as a high racer)
FEATURING :

Strong 'over-size' 7005 Aluminum double heat-treated to T6 with Optima's internal/external gusseting.
Oversized pivot axles, sealed industrial bearings and a steel spring shock make sure the rear suspension will keep working in any situation and keep rigidity in the frame.
Cougar 20 has folding stem as standard for easy access on and off the bike.
Optional superman "open cockpit" stem and handlebars offered.
Zithoogte : 45 cm / zithoek : 23-32 graden / wielbasis : 119 cm.
Oud model. Prijsindicatie: vanaf 1995 euro
aangemaakt op 23 november 2012 22:29, bijgewerkt op 02 februari 2022 14:37